Rwandan Local Government Authorities have embraced the reforms in public service management, whereby all written exams are conducted electronically, in a bid to improve on service delivery and transparency.
The Government of Rwanda through the Ministry of Public Service and Labor introduced the online examination in 2021 as part of public service reform and modernization, which started in 2019.
The objective is to enhance transparency and efficiency in the recruitment of public servants.
RALGA provides technical assistance to its members in recruitment services. It started applying online examination in November 2021.
By the end of March 2022, RALGA had conducted recruitment for seven Districts namely Nyagatare, Karongi, Ngororero, Karongi, Gatsibo, Musanze, Kamonyi, and Muhanga where above 3,000 candidates sat for examination using the online examination system.
Candidates who applied for different positions and passed their examination through the online system praised it for its efficiency compared to the old system.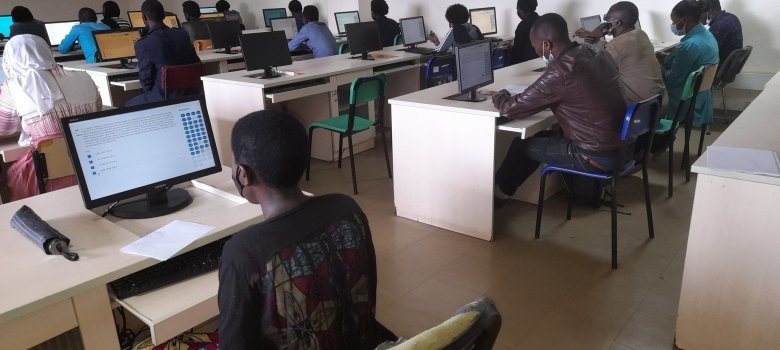 Candidates who applied for different positions in Muhanga District passed the examination using the online system.
"I have done examinations at different positions in different districts before the introduction of this online system. In the old system, the process took too long. It could take two months or even more waiting for the results to be released, which was discouraging for applicants. Today, this online system has made the process very easy and more transparent as the candidates get their results immediately after completing the test", said Bwiruka Jean Claude on 30 March 2022, after passing the written exam in Muhanga District.
District officials in charge of human resources management also appreciate the online examination system, because it has significantly addressed the challenges they previously faced.
"In the old system, it required time for examiners to mark all candidates' examination copies, for staff in charge of human resources management to do data entry in excel sheet and thereafter in the MIFOTRA system, with eventual risks of errors. Additionally, the old system involved a huge budget for purchasing examination booklets and paying examiners for correction. All those challenges have been addressed by the new online system", said Patrick Gatwaza, the Director of Administration in Muhanga District.
The Secretary General of RALGA, Ngendahimana Ladislas, commended the Government of Rwanda for introducing this system that significantly contributed to the recruitment of Local Government staff.
"The system was much needed because it was introduced two years after the recruitment of public servants was put on hold due to the effects of the covid-19 pandemic, restricting mass gatherings. Particularly, there were many vacant positions in Local governments which would hamper the districts to fulfill their responsibilities of implementing government programs and delivering services to citizens. With this system, we are speeding up the recruitment process through timely release of results and less appeals and we are confident that in a short period, all vacant positions in all districts will be filled", he said.