Kigali, 17 December 2021
The Minister of Gender and Family Promotion, Prof. Bayisenge Jeannette and the Secretary General of Rwanda Association of Local Government Authorities (RALGA),Mr Ngendahimana Ladislas, have urged female university graduates who completed a six-month professional internship in Local Government to become agent of transformational changes in their communities. They made the call at the closing ceremony of the second edition of professional internships in Local Government for female fresh university graduates held in Kigali on 17 December 2021.
A cohort comprising 99 girls and young women who completed the second phase of internships in all districts, graduated from different higher learning institutions and universities. Their selection based primarily on best academic performance and in areas with less female representation in both technical and political positions in local governments.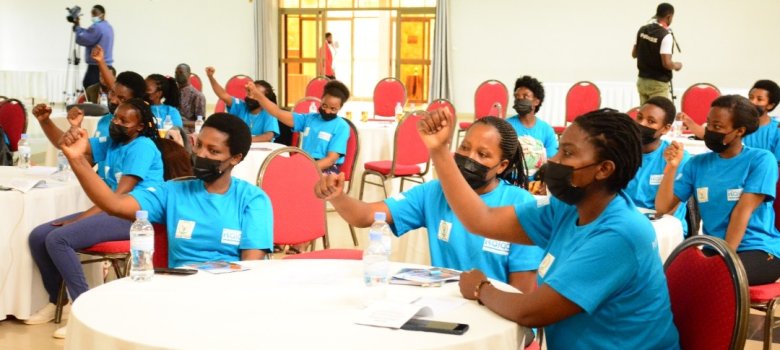 This program funded by the Ministry of Gender and Family Promotion and UN Women aims at empowering girls to become leaders in their local communities and nurturing them into potential local government leaders, starting from the grassroots.
Speaking at the closing event, officials commended the internship program as strategic initiative to bridge the gender gap in local government. They also appreciated the impact that the program has so far made to the beneficiaries and the services that interns rendered to host Districts.
In his remarks, Ngendahimana Ladislas, the Secretary General of RALGA, expressed gratitude to the Ministry of Gender and Family promotion for mobilizing resources that enabled the successful implementation of the second cohort of the internships, and for being an active partner during the whole implementation period.  He also recognized the role of UN WOMEN for providing funds to support the program.
Mr. Ngendahima stressed that the country has made a significant progress towards achieving gender equality as a constitutional imperative, whereby a threshold of 30% for women is respected in all decision-making positions, noting that, "this is the minimum, and it should be understood as such. Women do not deserve the minimum but equality. And they should earn it because they can".
Basing on the figures from the recently concluded local government leaders elections, the Secretary General of RALGA observed a big gap in gender equality at local government level in specific positions.
Though each District elects its Executive Committee members as an entity, and respects the provisions of gender representation, the sum indicates a disparity between men and female. According to the 2021 Local elections results, women make 40.7% and men make 50.3% of the Executive Committee members with an overall 46% versus 54% of females and males respectively.  
Based on the above figures, Mr Ngendahimana said that, RALGA believes that these internships in local governments for female graduates will contribute to bridging the persisting gender gap in local Government entities.
"This internship program is like sowing the seeds. If we sow good seeds that can produce many fruits, we can be confident to address, in ten years to come, the issue of disparity between men and women in local government positions", Ngendahimana declared.
"As matter of fact, some interns in this cohort competed in recent local government elections and 20 among them were elected in local government councils at different levels," Ngendahimana stressed.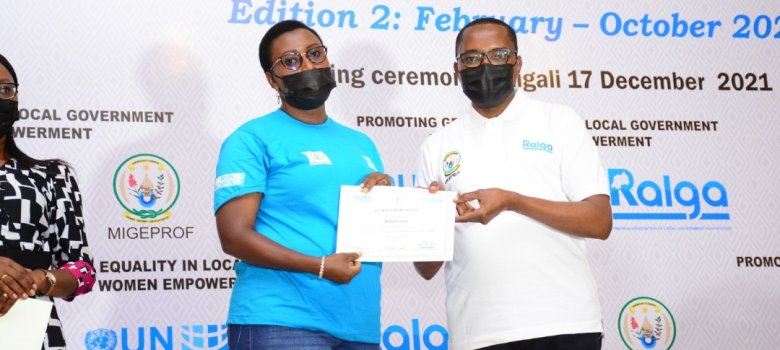 The Minister of Gender and Family Promotion, Prof Bayisenge Jeannette, thanked RALGA for initiating this program and for ensuring its successful implementation. She reaffirmed the commitment of the Ministry to support and to mobilize resources for the program to continue.
"The results that have been achieved through this program are really commendable, and they exceed our initial expectations. The fact that some of interns were elected in local government councils is a strong indicator that this program is making positive impact.  The Ministry of Gender and Family promotion pledges to continue supporting this program, because of the tangible results we have today," Minister Bayisenge stated.
The Minister also challenged those who completed their internship to become agent of positive transformation in the society.
"I challenge you, on behalf of the Government of Rwanda, to use the knowledge and experience acquired through this internship program for your own future and for the general good of the Rwandan society", Minister Bayisenge added.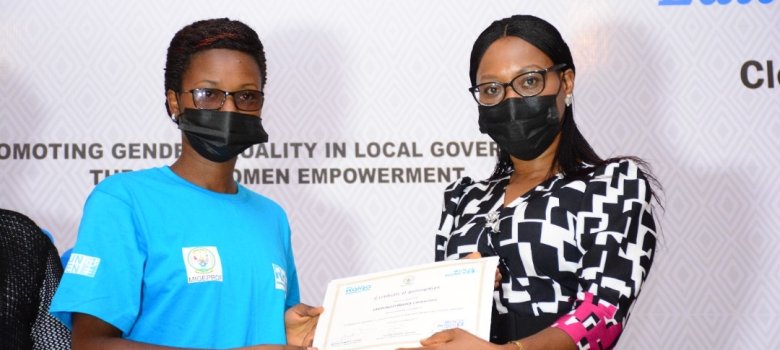 Uwiringiyimana Clementine spoke on behalf of the interns. She expressed her gratitude to the Government of Rwanda and to RALGA in particular for the opportunity offered to them and promised to make use of the acquired knowledge. She also provided their operational recommendations to the organizers, such extending the internships from six months to one year, increasing the stipend allowances and following up the interns to ensure they put on use the acquired skills.
"I and my colleagues would like to express our sincere gratitude to the Government of Rwanda and particularly to His Excellency Paul Kagame, the President of the Republic of Rwanda, for giving us the opportunity to do this internship. Rwanda is a country where it is an honor to be a woman; and we will not disappoint. We shall take advantage of this internship and fight together to promote gender equality and increase the number of women in local governments".
Uwiringiyimana Clementine was elected a member of Gisagara District Council recently, representing women.
RALGA initiated the internships program in Local Government for female fresh university graduates in 2019.
Its first edition was completed by 130 girls and women and was funded by GIZ.