"The Rwanda Association of Local Government Authorities welcomed the Government decision to consider local government officials among priority groups to access COVID19 vaccine in Rwanda", the Secretary General of RALGA, Ladislas Ngendahimana, said.
The Secretary General of RALGA made this observation on Friday, 5 March 2021, when Rwanda rolled out countrywide vaccination against COVID19. The vaccination activity took place in all public hospitals and health centers across the country.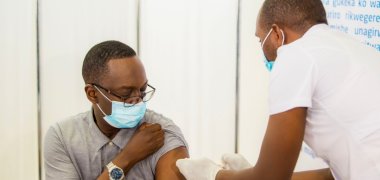 According to the Ministry of Health, Rwanda has received 342,960 vaccines from COVAX and an additional 50,000 donation from the Government of India. Beneficiaries were identified as priority risk groups, including health personnel, those above 65 years old or with underlying health conditions as well as other frontline workers. As explained by the Minister of Health, Dr. Daniel NGAMIJE, Rwanda's target is to vaccinate 30% of its population by the end of this year and 60% by 2022.
Rwanda started receiving the vaccines on 3rd March 2021. The following day, distribution in all districts and health facilities started by air (with defense helicopters), by road and by waterways. Health officials received the vaccines under the leadership of Mayors who chair the District Command Post.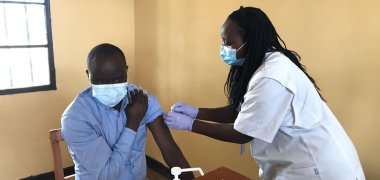 The third day, vaccination kicked off across the country. Hospitals and health centers vaccinated high-risk individuals including health care staff, community health workers, those aged 65 and above, people living with co-morbidities or disabilities and other frontline workers.
The frontline workers included security organs staff, local government leaders and staff as well as teachers, among others.
Command Posts at Sector and District levels coordinated the vaccination process, which noted high turn up of beneficiary groups, professionalism and positive mobilization at the grassroots.
Despite the availability of vaccines, local governments continued with the sensitization, mobilization and awareness campaigns against the spread of COVID19, as the struggle against the pandemic continues.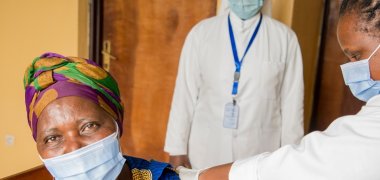 The Secretary General of RALGA recognized the benefits of teamwork and citizen centered leadership. He said; "Rwanda has rolled out COVID19 vaccination starting with frontline workers: health practitioners, vulnerable groups, security and local government staff, teachers, public and private sector, etc. All means are used to save lives in Rwanda and joint effort pays off", he noted.