The launch and induction session for this edition was attended by 120 selected candidates who will be deployed to carry out their internships for a period of six months in the City of Kigali and all districts across the country.
At this function, NGENDAHIMANA Ladislas the Secretary General of RALGA, commended the Government of Rwanda under the visionary leadership of President Paul Kagame, for creating a conducive environment for Rwandans'- particularly women and girls- self-realization. He expressed gratitude to MIGEPROF and UNWomen for the support to this program that plays a key role for RLGA to achieve its mandate of building the capacity of local government entities.
The Secretary General also commended the selected candidates for their academic performance and interest to be part of the local government family. He urged them to be of good character, with discipline and dedication during their internship period and to contribute in providing solutions to existing gaps in local governments.
"There is still a big gap in the number of women compared to that of men for both elective and technical positions in local governments. Therefore, this program helps to motivate women and girls to serve in decentralized administrative entities so as to bridge the existing gender gaps," said Ngendahimana Ladislas, Secretary General of RALGA.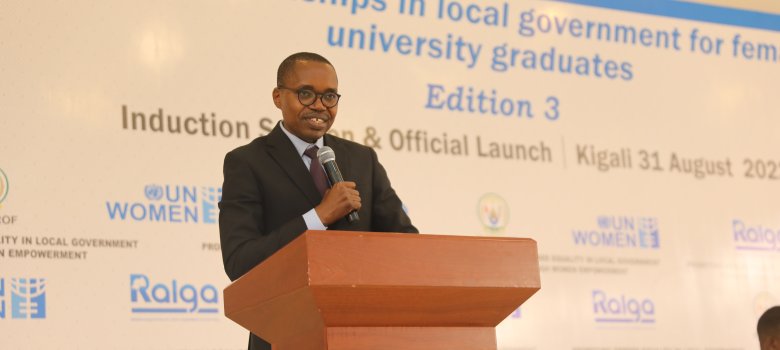 Ngendahimana Ladislas Secretary General of RALGA delivering remarks 
"Based on previous experience, some of those who completed such internships competed in the last local government elections and were voted at different levels. Therefore, we have strong hope that at the end of this six-month internship, these young women and girls will have understood the functioning of local governments and they will be willing and dedicated to serve in decentralized administrative entities both in elective and technical positions", emphasized Ngendahimana.
Silas NGAYABOSHYA Director General of Gender Promotion and Women Empowerment thanked RALGA for initiating this internship program and reaffirmed the continued support of the Ministry of Gender and Family promotion (MIGEPROF).
"The country has put in place policies and programs geared towards promoting gender equality and women empowerment in particular. There are also mechanisms in place to promote gender equality and to monitor how the intended national goals are being achieved. We are therefore appreciative to this internship program in local government for female graduates as it contributes to achieving national targets", said Silas NGAYABOSHYA.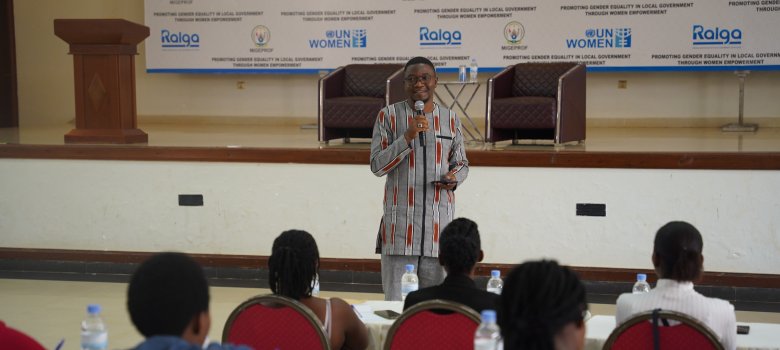 Ngayaboshya Silas addressing female candidates at the induction session preparing them to start their internships  
The program was initiated in 2019 with the aim to build capacity of women and empower them to participate in governance especially in local government. Additionally, the program intends to promote gender equality in local government and particularly to encourage young girls and women to serve in decentralized entities both in leadership and technical positions.
The first edition was financially supported by German Cooperation in Rwanda, and the subsequent two editions are supported by MIGEPROF and UNWomen. This program shall be sustained in the future, as it bears expected results.
Over 230 women and girls have completed the internship program in the previous two cohorts.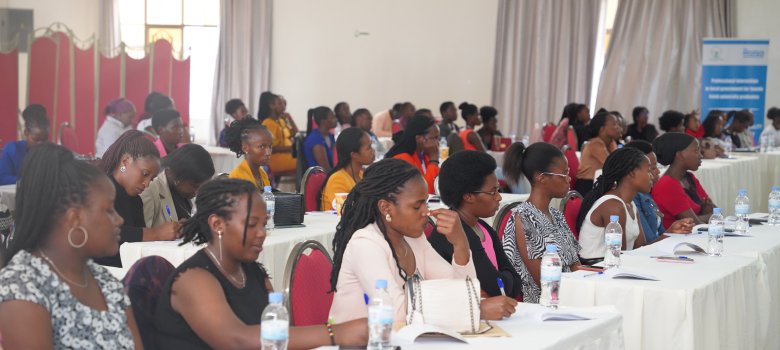 Female university graduates to be delpoyed in different districts and the City of Kigali underwent an induction session.