RALGA team included also two other staff members, namely; Serubanza Faustin (Manager of Corporate Services) and Aimable Kabanda (Local Expert Project Coordinator, supported by Engagement Global for capacity building at RALGA).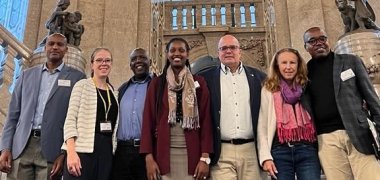 Engagement Global- Service for Development Initiatives is the central contact agency in Germany for development policy initiatives, both at national and international levels. It unites under its roofs institutions, initiatives and support programs of developmental work with the aim to actively promote a fair global coexistence. Engagement Global works on behalf of the German Federal Government and is funded by the Federal Ministry for Economic Cooperation and Development.
The Service Agency in One World (SKEW) is a division of Engagement Global and supports German municipalities as a competence centre for municipal development policy. With the aim of strengthening municipal partnerships, SKEW offers municipalities from Germany and countries of the Global South a platform for dialogue to exchange experiences and jointly develop local approaches to global issues.
The participation of RALGA was important for the success of existing and future projects of the municipal partnerships.
The Secretary General of RALGA said that; "this conference provided an opportunity to discuss the status of Jumelage between Rwandan Districts and Rhineland Palatinate."
The conference aimed at strengthening partnership work between German and African municipalities, promoting the exchange of municipal expertise, providing information on current developments in municipal and national development cooperation, promoting the sharing of knowledge on sustainable municipal digitalization.
"At RALGA, we value such platforms for networking, experience sharing and team building. Basing on the experience of jumelage between RALGA and GStB, and the support from both Governments –Rwanda and Federal Republic of Germany-, this relationship is excellent. We committed to strengthen and to broaden it to more Districts", Secretary General Ngendahimana Ladislas observed. He said that; during the conference, RALGA shared the experience of Rwanda in decentralized cooperation as well as digitalization in local government.
In the sidelines of the conference, the delegation of RALGA met Mr Kurt-Michael Baudach (Head of Department at SKEW). They met also Eva Heuschen from Engagement Global and Stefan Heck from GStB. They held an operational planning for ongoing and future projects.
Besides, the Secretary General of RALGA had a meeting with Dr Carola Stein from the Ministry of Interior and Sports in the Rhineland Palatinate. They discussed the ongoing project of digitalization of information and services at RALGA, as well as the exchange visits between officials from Rwanda and the Rhineland Palatinate. The aim was to strengthen the existing relationships of partnerships, based on mutual interest and mutual trust.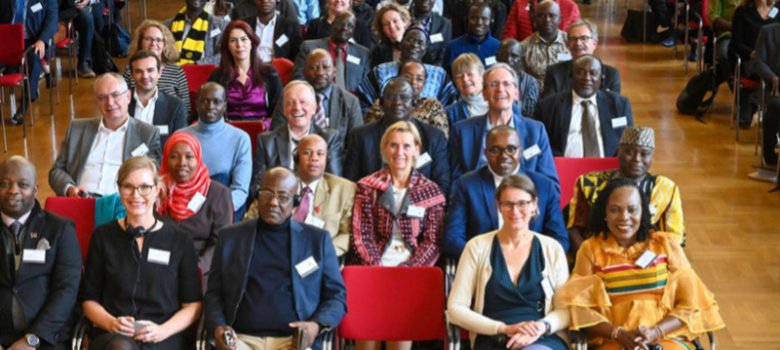 Photo of delegates attending the conference